Please welcome Imam Sejad Mekić and Imam Ali Tos
"And We appointed from among them leaders, guiding by Our command…"
Hafiz Dr Sejad Mekić
The Trustees are pleased to announce that Dr Sejad Mekić has been appointed as the first imam of our mosque. Dr Mekić, a British citizen of Bosnian origin, is currently a Research Fellow at the University of Exeter.
Hafiz Sejad hails from Kaćuni in Central Bosnia. He studied at the Elči Ibrahim-Paša madrasa in Travnik before completing his BA in Islamic Studies at the University of Wales, his MPhil at the University of Cambridge, and his PhD – on a 20th-century Bosnian Muslim scholar – at SOAS. He has published one book and several scholarly articles. Hafiz has served as imam in many mosques in Bosnia, London and Cambridge, as well as serving as Muslim chaplain at HMP Highpoint and lecturing at the Ahmed Yesevi University in Kazakhstan, the Muslim College of London, and the Cambridge Muslim College.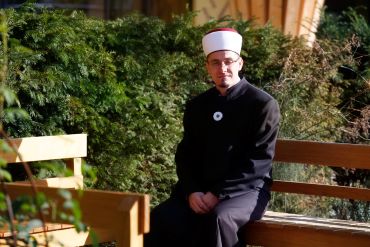 Hafiz Ali Tos
Hafiz Ali was born in the city of Konya, the spiritual heart of Turkey and is a graduate of the prestigious Necmettin Erbakan University in Konya. He has over fifteen years of teaching experience in various religious fields and has been serving as Imam and Hifz Teacher at Cambridge Central Mosque since Ramadan 2019.
Imam Ali completed his Islamic middle, high school and university studies in Konya and after earning his bachelor's degree, he joined The Selcuk Religious Institute for three years. Following his time at The Selcuk Religious Institute, he was appointed as an Imam, Khateeb, and Mufti in several cities around Turkey which included serving as a chaplain and counselor for prison inmates.
He began a masters degree, specialising in Quranic interpretation prior to moving to the USA in 2014. In the USA for around five years, he served as Imam of The Diyanet Center of America which is one of the largest mosque and muslim community centre complexes in the USA. Seven of his students graduated from his Hifz program at The Diyanet Center.
Towards the end of 2018, Imam Ali joined a two year certification program from the International Institute of Islamic thought (IIIT). During his time in the USA, Imam Ali was invited by ICNA, ISNA, Al-Madina Institute, and various other prominent Islamic organisations to represent The Diyanet Center, to recite the Qur'an and to judge Hifz competitions. Maintaining a close relationship with The Konya Metropolitan Municipality and the Turkish Diyanet, Imam Ali, has organised tours and expeditions to Turkey for his Hifz students and for new Muslims, both from the USA and more recently from here in Cambridge.